Hello everyone!
I am so sorry for the lack of posts. But if you are reading this, thank you for sticking through. :)
So let me begin with another travel post.
Me and my travel buddy, a.k.a. mom, decided to go on a short trip to Malaysia last year and we definitely had a blast exploring every nook and cranny of KL.
Round trip Airfare for two: 8,950 PhP via CebPac
Accommodation with Breakfast: 7,065 PhP for 3 nights at Le Apple Boutique Hotel via Booking.com
Food: 200-500 PhP per meal/person (may vary)
We chose the hotel based on location and the accessibility to public transport, and Le Apple Boutique Hotel in KLCC delivered just that for the right price. Situated just beside the Petronas Twin Towers, it gave the perfect view of the towers from our window plus it was just a stone throw's away from the nearest train station.
Le Apple Boutique Hotel's lobby
Our first night was spent looking up at the majestic Petronas Twin Towers. Seeing it up close was truly a breathtaking moment for us.
Day 2 - Exploring Batu Caves
We decided to get up early the next day so that we can take the first train out to Batu Caves. We made our way to KL Sentral Station and bought 2 roundtrip tickets to Batu Caves and back. (4 MYR = Around 45 Php/person)
Tips:
1) Slather on SUN BLOCK! (especially during mid-day)
2) Keep hydrated
3) I personally discourage bringing food because the monkeys will not hesitate to take it from you. YES THERE ARE MONKEYS!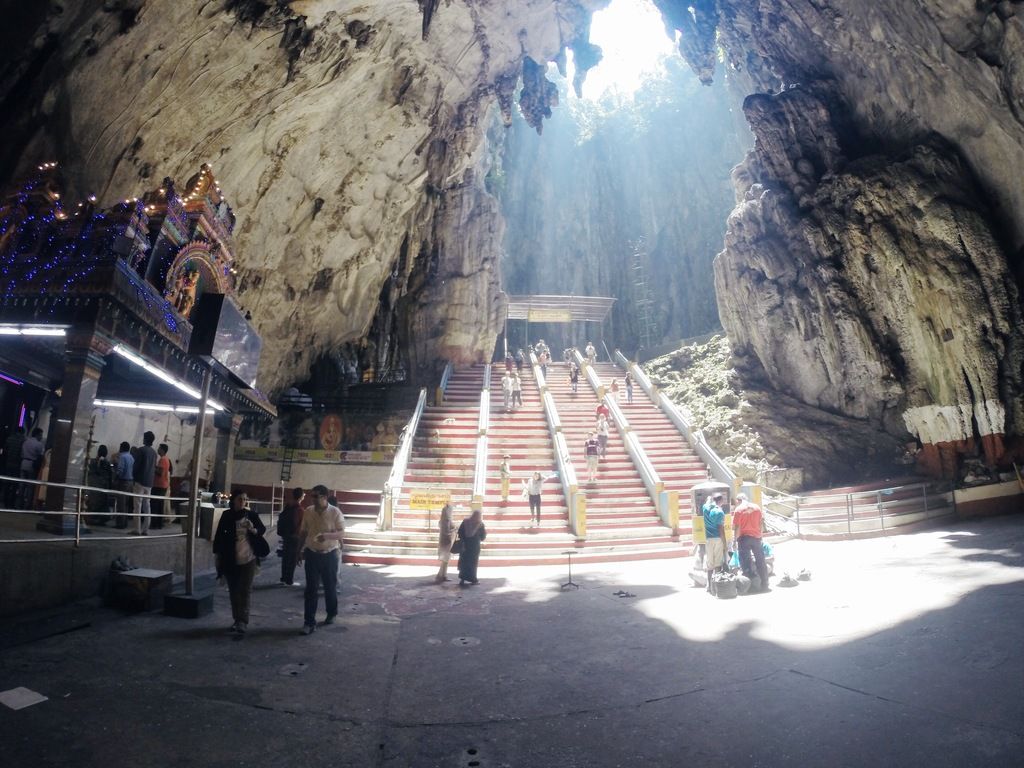 Temple Cave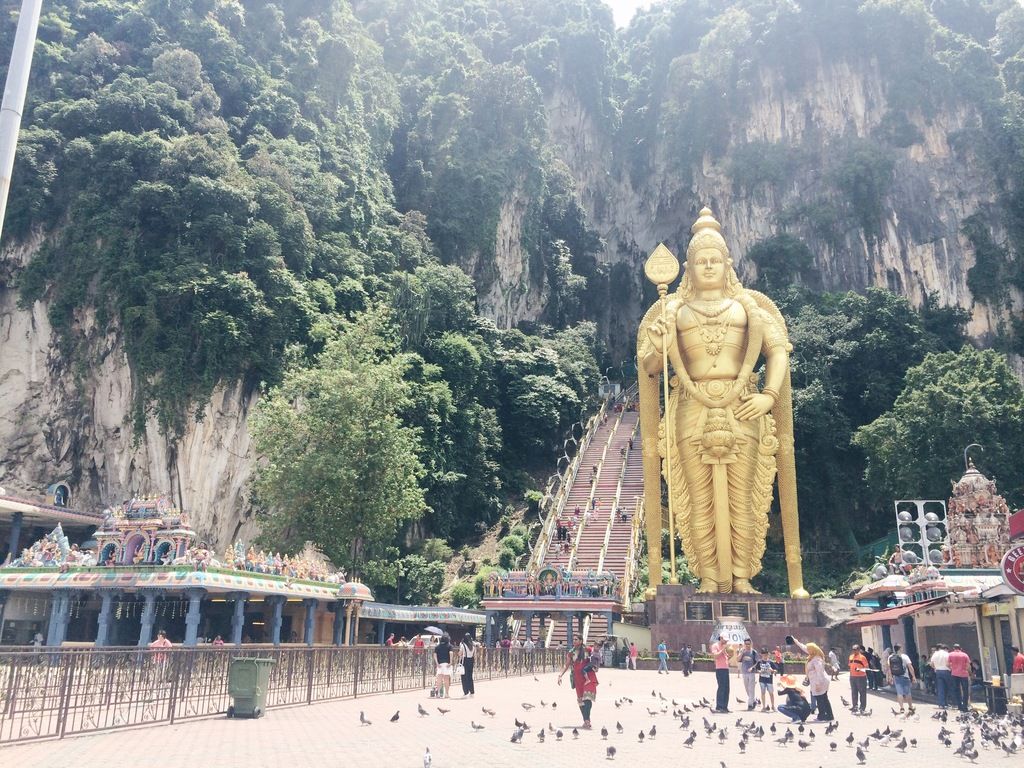 Got this lovely Mehndi near the cave. You can choose any design or have your artist do it freestyle. The price depends on the intricacy or detail of your chosen design.
This reminds me of that time when Henna tattoos were just starting to be a fad in Manila. I got mine at Glorietta, when Silver Works (If I remember correctly), offered Henna Tat services for one weekend only. I felt like the coolest elementary student back then because I was the first one to have a "tattoo" in school. It eventually washed off, a few weeks after.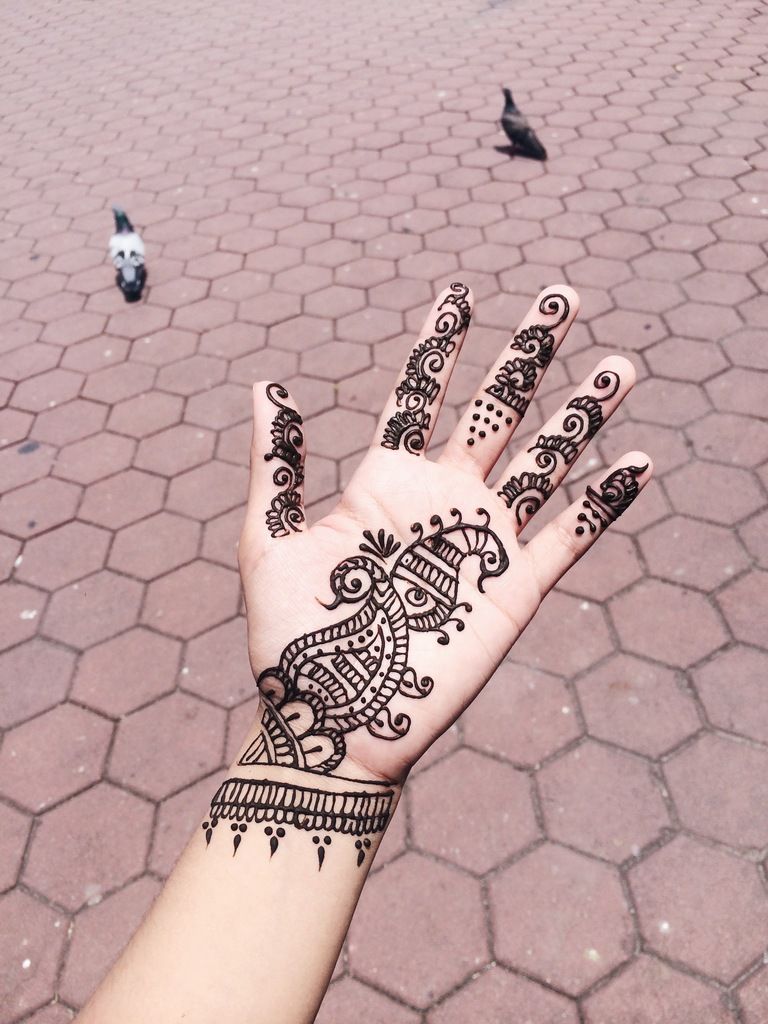 Day 3 - Masjid Negara and Bukit Bintang
Since this was our last day in KL, we decided to visit the beautiful Masjid Negara or the National Mosque of Malaysia. It was really a spectacular sight. The friendly staff provided us with a Hijab and Abaya to wear, which was another first for us.
The main prayer hall
We only got to spend around 30 minutes in the Mosque and decided to head to China Town and then to Bukit Bintang for some last-minute shopping.
I went crazy at Sephora
We really didn't get to buy anything (except for a few make-up items) which is somehow a miracle for me since I've always loved shopping. But since most of the shops in Bukit Bintang are also in sunny Manila, we opted not to spend a lot on shopping.
Originally, we planned to go to Genting Highlands, but a local advised us to just skip it because there was an on going renovation at that time and there wouldn't be anything much to see and do. All in all, I think a budget of 20K PhP each, inclusive of airfare, travel tax, accommodation, food, train fare, and a little shopping will definitely go a looooong way for a 4-day 3-night stay in KL.
<3 D.
Weapon of Choice:
GoPro Hero 3+ Black Ed
Iphone 5s